What's Your Secret Career Dream?
"A day merely survived is no cause for celebration. You are not here to fritter away your precious hours when you have the ability to accomplish so much by making a slight change in your routine. No more busy work. No more hiding from success. Leave time, leave space, to grow. Now. Now! Not tomorrow!" ~ Og Mandino
Do you have a secret that you keep from everyone? If you do, you are in the same boat with the majority of people. What kind of secret am I referring to? I mean the one about something you've always wanted to do or be and have just never told anyone about it. Sometimes we keep our dreams quiet because we are afraid of what others will think or say. We may be concerned about actually succeeding, because that could mean all kinds of other changes to our lives. Other times, we are fearful that if we pursue our dreams and fail, we will have to give up all hope. These are not exactly small thoughts and feelings to deal with.
Those secret desires do come out at times though. It's when we say, "I always wanted to be a dancer." or "When I was young, all I wanted to do was play professional football." These admissions are usually followed by, "Isn't that crazy?" No, it is by no means crazy.
There is a reason why you were given that desire and thought. It is because you are, well, you. Let me explain. The thoughts and ideas that come into the mind of say, Stephen Hawking, the theorist physicist, are not the same thoughts and ideas that would ever come into my mind. You see, Mr. Hawking is uniquely suited to a life lived in the world of scientific theories and mathematical deliberations. His personality, traits, styles of thought and learning make that so. My personality, traits and gifts would never be happy pursuing his line of work. Just as he would likely be unhappy following my pursuits of coaching, training and patiently guiding others to their own gifts. You are suited to those ideas that come into your mind, that's why they came into your mind and did not come into someone else's.
Your dreams are matched to your personality and innate abilities. How to step into ownership of your secret desires and own your dreams is where you need to begin your work.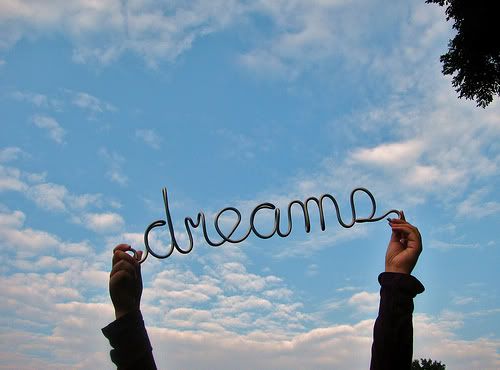 Now, as some of us are well past the point of pursuing certain careers, and it may be physically impossible. It is highly unlikely that you will get on the first draft for the NFL when you are 40, or that you will be a dance diva if you haven't made a move on the dance floor in eight years. But, this does not mean that you must give up your dream. Think for a moment of what putting on a dance performance entails. Ponder what goes into setting up of one football game.
These talented, highly trained performers don't walk out and just begin. Prior to the actual game or performance, a myriad of people have worked to assist with writing, training, marketing, purchasing, designing, programming, and all other sorts of jobs to make a few hours of show time possible. Why not look at joining into the whole tribe of those who make it happen. Adjustments are allowed and can even be more enjoyable and fulfilling.
Stop hiding who you are, seek out the way for you to pursue those secret dreams. Remember, your personal gifts are necessary for everyone.